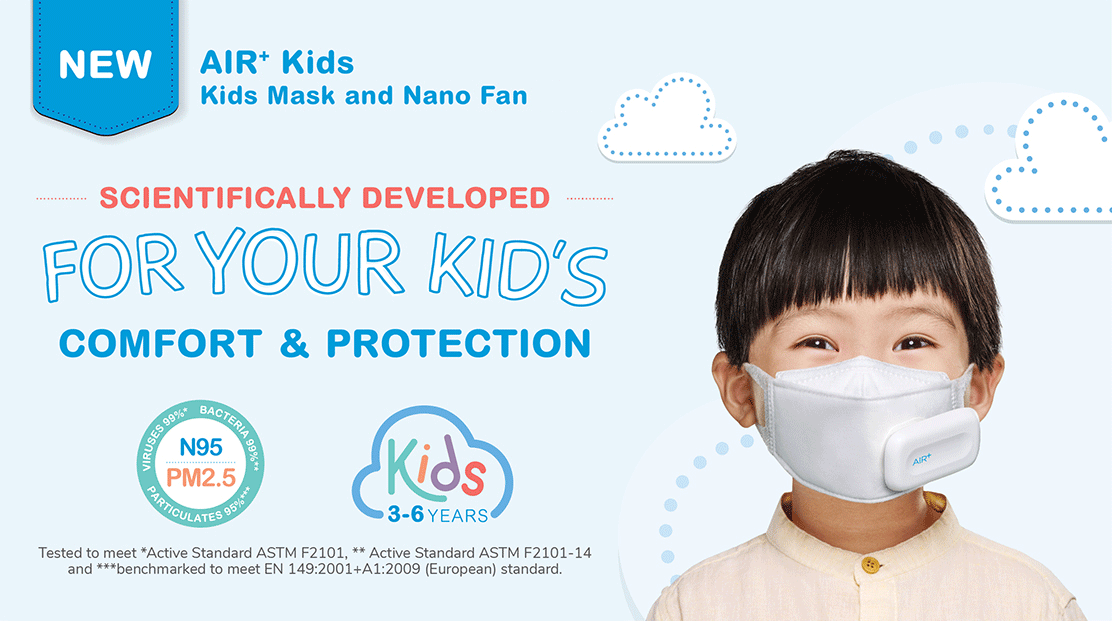 AIR+ Kids provides proven protection
with breathable comfort for
young children aged three to six years old
Singapore, 26 September 2019 – Innosparks, an ST Engineering Open Innovation Lab, and Temasek Foundation today jointly announced the launch of AIR+ Kids, a first-of-its-kind mask system combining an N95 mask with an attachable ventilator, for young children aged three to six years old.
Developed with the support of Temasek Foundation, AIR+ Kids addresses a market gap for comfortable respiratory protection for young children between three and six years of age. Scientifically developed and engineered to fit the smaller facial profiles and respiratory patterns of young children, AIR+ Kids - which comprises an N95 Kids Mask and a reusable Nano Fan (an attachable ventilator) - is tested and benchmarked to meet EN 149:2001+A1:2009 (European) standard, providing protection against the haze, PM2.5 particles, bacteria and viruses. AIR+ Kids is an extension of Innosparks' existing range of AIR+ respiratory masks for the family which provide proven protection for adults and children aged seven years and upwards.
Mr Gareth Tang, Senior Vice President, Technology, and Head of Innosparks, ST Engineering said, "Having the right mask size and fit is critical to ensure that the mask performs its function, but the market currently does not offer adequate options in respiratory protection for young children aged three to six. Young children are also more sensitive to air pollution, noise and discomfort. Hence in addition to providing protection against the haze and other airborne contaminants, we have incorporated more child-friendly features and materials to enhance comfort and ease of use." 
New Child-Friendly Innovations in AIR+ Kids
AIR+ Kids leverages the science and proven technology of Innosparks' AIR+ respiratory masks. Extensive field studies and fit-tests involving over 350 children aged three to six were conducted to gather and analyse facial data, resulting in several new, child-friendly innovations in AIR+ Kids. These include:
A 3D True-Fit mask shape that wraps around the face to provide an effective seal;
Wide and stretchable Flexi-Strap ear loops that minimise pressure on the ears, with a tear-to-adjust feature that allows a more precise fit;
A smaller, lighter and quieter Nano Fan which adds almost no weight to the mask at just 13 grams. When switched on, it operates at only 45 decibels, the equivalent of a soft whisper.
"AIR+ Kids brings respiratory protection for children to a whole new level, and illustrates how innovation and engineering can come together to create breakthrough products that solve the challenges of urban living and benefit our communities," added Mr Tang.
Mr Lim Hock Chuan, Chief Executive, Temasek Foundation Ecosperity said, "Temasek Foundation champions sustainability and supports the development of solutions that improve liveability. We are happy that the AIR+ Kids product is now available as an option for families to protect their vulnerable younger children when they are outdoors facing the haze or other air pollutants. Temasek Foundation will continue to support and bring innovative research from the laboratory and into the marketplace and the community to enhance our quality of life."
As part of the launch, AIR+ Fun Packs comprising an AIR+ Kids Mask, flash cards, an activity book among others, will be distributed to children aged three to six who are currently enrolled at PCF Sparkletots preschools in the Tampines West constituency, to educate them on the importance of good respiratory health and protection.
Since its launch in 2015, the award-winning AIR+ respiratory masks have been well-received by consumers locally and in overseas markets such as China and India. The AIR+ Kids Mask and AIR+ Nano Fan are sold separately, and are currently available at local Watsons stores. From early October, AIR+ Kids will be available on e-commerce site Lazada. More information on AIR+ Kids is available at www.airplus-family.com.
*****
ST Engineering is a global technology, defence and engineering group specialising in the aerospace, electronics, land systems and marine sectors. The Group employs about 22,000 people across offices in Asia, the Americas, Europe and the Middle East, serving customers in the defence, government and commercial segments in more than 100 countries. With more than 500 smart city projects across 70 cities in its track record, the Group continues to help transform cities through its suite of Smart Mobility, Smart Security and Smart Environment solutions. Headquartered in Singapore, ST Engineering reported revenue of $6.7b in FY2018 and it ranks among the largest companies listed on the Singapore Exchange. It is a component stock of the FTSE Straits Times Index, MSCI Singapore, SGX ESG Transparency Index and SGX ESG Leaders Index. For more information, please visit www.stengg.com.
Innosparks is Singapore's first engineering-based incubator and an Open Innovation Lab of ST Engineering, a global technology, defence and engineering group specialising in the aerospace, electronics, land systems and marine sectors. As a dynamic innovation platform and springboard to new and disruptive technologies, the Open Lab offers a pool of skilled engineers, beyond just advanced equipment and labs to support innovators in accelerating the development of their ideas to prototypes and products.
Temasek Foundation supports a diverse range of programmes that uplift lives and advance communities in Singapore and beyond. These are made possible through non-profit philanthropic endowments, gifted by Temasek and managed by the Temasek Foundation under its respective mandates. For more information, visit https://www.temasekfoundation.org.sg/.
*****
Media contacts:
Desiree Wong
AVP, Corporate Communications
ST Engineering
DID: +65 6722 1690
Email: desiree.wongmy@stengg.com

Joshua Wong
Associate Director, Communications and Partnerships
Temasek Foundation
Mobile: +65 8180 0741
Email: joshuawong@temasekfoundation.org.sg
Comments are closed.