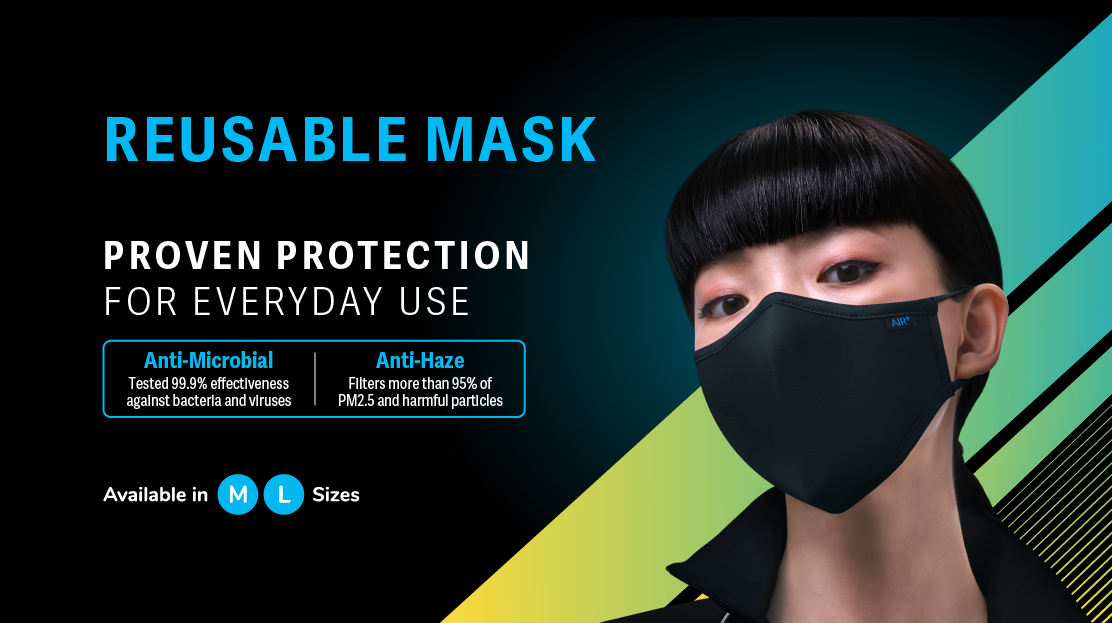 ST Engineering Launches New High Performance AIR+ Reusable Mask with N95-Grade Filtration and Proven Anti-Microbial Protection
Singapore, 3 March 2021 - ST Engineering today announced the launch of its new high performance AIR+ Reusable Mask which provides N95-grade filtration and anti-microbial protection against PM2.5 particles, haze, bacteria and viruses. Targeted at users who are at greater risk of exposure to viruses, as well as consumers seeking reusable masks that provide enhanced protection, the AIR+ Reusable Mask offers a sustainable option that provides proven protection with ergonomic design for secure fit and comfort.
"High filtration efficiency and a good facial fit are the two key criteria that determine a mask's effectiveness. With mask-wearing becoming part and parcel of daily life and the emergence of more transmissible coronavirus strains, we continue to see consumer interest in high performance reusable masks. Our team leveraged our know-how in innovative respiratory protection to engineer a reusable mask that combines the advantages of fabric with enhanced protection and superior fit, providing our communities and segments at risk with more options for enhanced and comfortable respiratory protection," said Gareth Tang, Senior Vice President/Head, Robotics and Autonomous Solutions, and Urban Environment Solutions at ST Engineering.
The first reusable mask launched under AIR+, ST Engineering's award-winning mask brand for innovative respiratory protection, the AIR+ Reusable Mask is tested by Nelson Labs according to STP0014 Rev 09 protocol and effectively filters more than 95%[1] of particulates, including PM2.5 particles, haze, viruses and bacteria. Its anti-microbial coating is proven to kill 99.9%[2] of the SARS-CoV-2 virus[3] and harmful bacteria for up to 30 washes as tested to ASTM E2149-13a and ISO 21702:2019 standards, and dermatologically tested[4] to be safe and non-irritating to skin.
Ergonomic design that provides secure fit and comfort
The AIR+ Reusable Mask has been extensively tested with over 200 users, and had undergone multiple design iterations to ensure a secure fit with Asian facial profiles. The mask has a unique 3D structure that provides an expanded breathing space around the nose and mouth area to prevent the mask from collapsing when breathing in, and is ergonomically designed to contour around the face to prevent pressure effects such as friction and abrasion on the cheeks and jawline. To provide added comfort and a secure fit, the mask features an ultra-plush nose cushion that adapts to the nose contour to reduce eyewear fogging, and anti-slip buckles on soft stretchable ear loops that provide fit while reducing pressure on ears. 
The AIR+ Reusable Mask expands ST Engineering's suite of respiratory protection solutions for consumers and professionals which includes the medical-grade AIR+ Surgical Mask, AIR+ Family and AIR+ Kids masks. It was developed in collaboration with Temasek Foundation, which had also supported the development of other AIR+ mask variants.  
The AIR+ Reusable Mask is available in M and L sizes, in black and navy blue. It retails at $18 per piece and can be purchased from the AIR+ Official Store and Lazada, along with the AIR+ Surgical Mask. More information on the AIR+ masks is available at www.airplus-family.com.
Donation to The Straits Times School Pocket Money Fund
For every AIR+ Reusable Mask sold from March 2021 till February 2022, ST Engineering will donate $2 to The Straits Times School Pocket Money Fund, which provides children and youths from low-income families with pocket money to help them through school.
[1] Tested by Nelson Labs according to STP0014 Rev 09 protocol.
[2] Tested by Microbe Investigations AG (MIS) following ASTM E2149-13a standard, and by Bureau Veritas following ISO 21702:2019 standard.
[3] Tested by HeiQ on Viroblock NPJ03 treated fabric used in mask, according to the Doherty Institute for Infection and Immunity.
[4] Tested for HeiQ by Farcoderm Srl on Viroblock NPJ03 treated fabric used in mask.
*****
ST Engineering is a global technology, defence and engineering group with offices across Asia, Europe, the Middle East and the U.S., serving customers in more than 100 countries. The Group uses technology and innovation to solve real-world problems and improve lives through its diverse portfolio of businesses across the aerospace, smart city, defence and public security segments. Headquartered in Singapore, ST Engineering reported revenue of $7.2b in FY2020 and it ranks among the largest companies listed on the Singapore Exchange. It is a component stock of the FTSE Straits Times Index, MSCI Singapore, iEdge SG ESG Transparency Index and iEdge SG ESG Leaders Index.
Comments are closed.